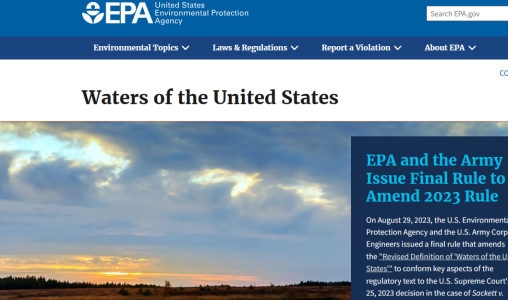 Since 2015, there have been more than a
dozen regulatory or litigation actions
changing which definition of
"waters of the United States"
(WOTUS) applies in one or more states. This includes the recent
Sackett Supreme Court decision
and subsequent
Conforming Rule
that was made effective September 8 of this year. Amongst the continual changes to administration policy and patchwork injunctions by district courts, some states have experienced more WOTUS whiplash compared to others. For this article, I wanted to document this recent history of regulatory volleyball, which I think provides an excellent case study on how the regulated public is affected when executive and judicial interpretations are continuously at odds and use of rulemaking under the Administrative Procedures Act is pushed to a maximum.
For practitioners affected by these changes, I'm interested in hearing your story. Have you been able to effectively track changes to Environmental Protection Agency and U.S. Army Corps of Engineers jurisdiction under the Clean Water Act? How have the repeated changes to the WOTUS definition affected your ability to advise clients on permitting for their projects?
My accounting of regulatory changes by state is provided in the table below. I've also included the analysis I used to calculate these stats in the attached spreadsheet.
As you can see, there have been eight states that have each experienced nine total WOTUS changes since 2015. That's more than one change per year, which should be considered breakneck speed by any standard for rulemaking and judicial review acting on a single law. Additionally, a total of 17 states experienced eight WOTUS changes and 12 states experienced seven changes. Idaho has been sitting quietly on the sidelines, relatively speaking, having experienced only four changes since 2015.
| | |
| --- | --- |
| Number of WOTUS changes since 2015 | States affected |
| 9 | Iowa, Louisiana, Mississippi, New Hampshire, Ohio, Oklahoma, Tennessee, Virginia |
| 8 | California, Connecticut, Delaware, Hawaii, Illinois, Maine, Maryland, Massachusetts, Michigan, Minnesota, New Jersey, New York, Oregon, Pennsylvania, Rhode Island, Vermont, Washington |
| 7 | Alabama, Colorado, Florida, Georgia, Indiana, Kansas, Kentucky, New Mexico, South Carolina, Texas, Utah, West Virginia |
| 6 | Alaska, Arkansas, Missouri, Montana, Nebraska, North Carolina, North Dakota, South Dakota, Wisconsin, Wyoming |
| 5 | Arizona, Nevada |
| 4 | Idaho |
We'll have to wait and see how WOTUS evolves from here. It's still very much an open question how stable and predictable these regulations will remain over the long term. However, considering that September's amendments to the 2023 Rule (Conforming Rule) seem to have interpreted the recent Sackett decision
relatively narrowly
(see also
this post
), it seems likely that shifting administration policies and recurring judicial action will continue to make any notion of a durable WOTUS elusive.