Review for the City of Poway Building Department: 2/5 stars. The city of Poway suffers from numerous permitting issues for homeowners, including but not limited to:
1. Access issues.
This can be a problem anywhere, but any time there is a dispute between a city and homeowners in an area about whether a road should be privately owned or city maintained, the city will try to use this dispute to deny land buyers a building permit on the pretext that they don't have access. This starts the dispute all over again.
My city basically abandoned a lot of roads that they were required to maintain when the city incorporated out of the county area. The city wants the neighbors to maintain the roads leading to my house by signing a road maintence agreement. The neighbors point out that the roads leading up to my house were county maintained roads before the city was incorporated, and thus the city needs to maintain the road. The city points out that the road is not up to the city standards for a city maintained road and thus would cost millions of dollars to upgrade it. Nobody maintains the road.
https://www.chicagotribune.com/sdut-500000-claim-filed-in-poway-easement-case-2016mar21-story.html
- this story talks about a developer that made a minor improvement to the situation by making sure we all had easements to access our land across the so-called private road.
This problem is not unique to our area, and our city has received other lawsuits for its practice of attempting to abandon roads.
2. Fire regulations.
California is prone to wildfires, so we have all kinds of fire regulations. When my dad was developing our parcel, which had a house on it that had previously burned down, we were required to have a "100 foot bubble" around our house for fire defense. Some of the regulations made sense - we had to clear away a bunch of dead pine trees from the last fire and haul them away, and chop and kill a bunch of eucalyptus trees that "go up like Roman candles" in the event of a fire.
Some of the regulations did NOT make sense. Basically, we were required to install an expensive irrigation system and plant a bunch of "fire resistant" plants to contain the soil erosion, since our property has steep slopes. Since we couldn't afford to run the irrigation system, most of the plants died after we moved into our house. We ended up getting some rocks for free from a building site that wasn't using them in town and putting them on the slope to stop it from eroding away. More water to stop erosion? Uh no.
Other fire regulations we had to comply with include putting a wall on our eastern property line, since there is less than 100 feet between our house and the property line, to stop embers from flying over from our neighbor's property onto our house. We have a fire bell, a fire spinkler system, but no fires have arrived for over a decade. Funny how that works.
3. Environmental Regulations
- My dad was fortunate that our house was viewed as a rebuild of a house that had burned down and not a new construction. Building a new house in Poway means that you have to set aside parts of your land as "Environmental Impact Zones". This means that a section of your property is rezoned as "Outdoor Recreation" and you cannot develop it for any reason. No landscaping, no building, nothing. You pay taxes on land you can't use.
According to Poway GIS, a close neighbor's zoning near ours looks like this: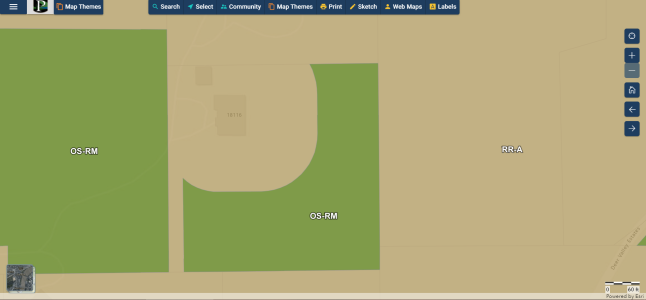 [Source:
https://powaygis.poway.org/websites/PowGIS/
]
Code for OS-RM:
https://www.codepublishing.com/CA/Poway/#!/Poway17/Poway1724.html#17.24
(RR-A is a residential development code.)
But that's not even the worst case. Sometimes the environmental and fire regulations overlap so you can't even build on your land. A neighbor of ours bought a million dollar lot, that looks like this: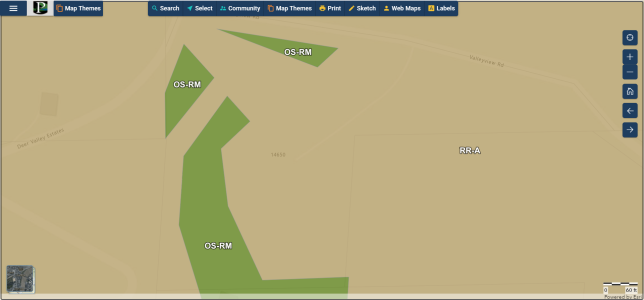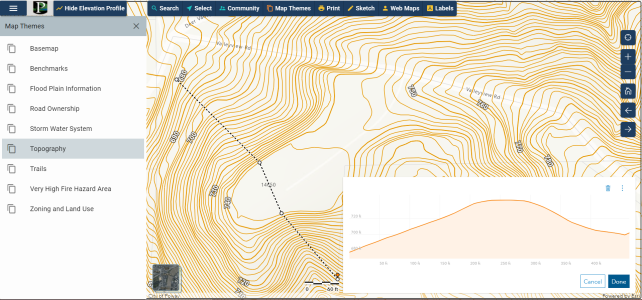 [Source:
https://powaygis.poway.org/websites/PowGIS/
]
The outdoor recreation zoning comes so close to any potential house, there isn't enough room to landscape out a 100 foot fire defense bubble. So the only option is to build what amounts to a tiny fortress surrounded by firewalls. Obviously the owner doesn't want that - they wanted a mansion - so they have given up and basically use that property to store trailers and other things. They tried to sell it for awhile, but nobody else was going to bail them out because then they would be in the same predicament. Who wants a firewall blocking their million dollar view?
I would have tried to develop it using creative architecture, but I didn't have the money to do so back then, and right now he isn't selling. It goes to show how adverse the city is to development and how snooty they are.
Never mind the required LED light bulbs and motion sensors in the bathrooms to supposedly save on electricity. The latter actually burns MORE electricity, because the light always turns on in the bathroom when you go in regardless of whether it is day, night, or you wanted it on. Stupid bureaucrats. They are also a pain to take out after the house is built.
Even worse, the city has allowed the local golf course to overdraw our water table and the supposedly protected California Live Oak Trees on the property are suffering. I see a new fallen tree limb every few months now, even with record rain. It just goes to show that the city doesn't really care about the environment as much as their own pocketbooks and making hassles for homeowners.
4. Adverse to development -
Two local elections had to be called in order to develop pieces of property in the city, and the opposition was quite fierce. The two developments did eventually go through, but one of them required TWO attempts at the ballot box. Not in my backyard seems to trump logic.
Another neighbor of ours wanted to subdivide his 20-acre property, a proposal that the city rejected.
5. Two building permits required for many projects -
According to the
Building Permit Frequently Asked Questions
, a permit for a house or any expansion to one requires a separate Minor Development Review Application which can take 14 - 28 days to get approved and requires an extensive amount of detail. See:
https://poway.org/DocumentCenter/View/589/Minor-Development-Review-Application-MDRA-PDF?bidId=
So, 2/5 stars for the City of Poway building department. It took 6 months for my dad and his contractor and architect to get a building permit for our house, which basically says it all. They didn't tell my dad or his contractor all of the problems they had. So proposal --> problem --> resubmit --> another problem, and so on, until they ran out of problems. Since the city has a two week processing period for each new submission, it takes forever for anything to get done. [Source:
https://poway.org/259/Building-Permit-Process
] While some of this may be attributed to the fact that this was the first time my dad tried to build a house and him being a cheap control freak, some of this is just the building department being onerous and annoying.
They also supervise you and check on you regularly to make sure you are following the plans to the letter, and the city inspects your property to ensure you have met all of the requirements before they will turn the utilities on and let you use your house. Our gas turn on got delayed because my dad didn't plant one tree in the landscape plan.
Because of all of the things mentioned above, I really can't recommend buying property in this area without extensive due diligence.
1. Check the zoning for your property to make sure it is zoned residential.
2. Understand the fire and environmental regulations that apply to you.
3. Check the property history in the San Diego Law Library. We discovered a set of easements had been quitclaimed without our knowledge - the deed didn't include information about the quitclaim.
4. Use LED bulbs when building to avoid using motion sensors in the bathrooms, if you can.
And be prepared to hire a surveyor and a lawyer to uncover any more nasty surprises. You'll be responsible for dealing with all of them.
Location

Poway, California, United States